The Head of the Order is respected as the most senior member of the Order, and is a key figure in the functioning of the Order. The Head of the Order serves both as the spiritual leader of the Order, providing a critical refuge point for all who practice within the Order, monastic and lay alike, and also as, in conjunction with the Order officers and the senior monks of the Order, its administrative center. His function and range of authority are defined in the Rules of the Order.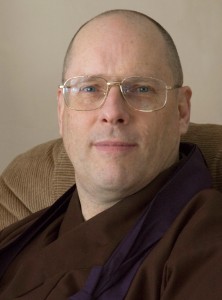 Rev. Master Haryo Young is the current Head of our Order.Ordained in 1972, Rev. Master Haryo is a senior disciple of Rev. Master Jiyu-Kennett and served as one of her assistants for many years.
He was elected by the senior monks to succeed Rev. Master Daizui McPhillamy who died in 2003. Although Rev. Master Haryo travels extensively as part of his role, his primary residence is in North America.
Here is a link to an essay on practice written by him and published in the OBC Journal. The Truth of Being  And another about the path to monasticism: Why Monasticism?
Rev. Haryo may be reached here.